ELPUB 2018 Accommodations
Connecting the Knowledge Commons:
From Projects to Sustainable Infrastructure
The conference venue (the University of Toronto Faculty of Information) is located in downtown Toronto, in the middle of the University of Toronto's main campus. A wide variety of accommodation options are available, with varying services and amenities. We recommend that you reserve your accommodations early in order to avoid disappointment!
A number of the University of Toronto residences offer economical "summer hotel" options. These accommodations are clean and comfortable and are within easy walking distance to the conference venue. Room styles, amenities and services will vary. For information or to book a reservation, please contact the residence you are interested in directly. More information is included below about conference group rates and amenities.

Chestnut Residence & Conference Center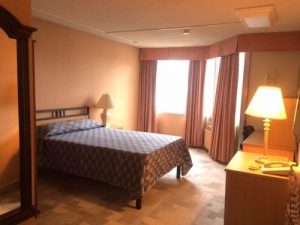 89 Chestnut St, Toronto, ON M5G 2J1, Canada
Room Rate: $119 CAD per single or double occupancy per night, plus tax. Includes full breakfast. Based on availability.
Room styles: Single or double private room
Amenities: One or two single bed(s), private ensuite washroom; bed linens and towels; complimentary Wi-Fi; fitness centre; common area with microwave and mini-fridge and TV on each floor; local calls; $ laundry; $ parking; onsite dining hall
Location: In the heart of downtown, directly behind City Hall and Eaton's Centre; approx. 25 minute walk to conference venue.
Reservations can be made by calling 416-977- 0707, Ext 0, or by email to frontdesk.chestnut@utoronto.ca. Please refer to ELPUB conference for rate. This rate will only be available until May 1, 2018, and based on availability. Please book early!
New College Residence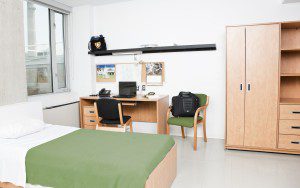 45 Willcocks St, Toronto ON M5S 1C6, Canada
Conference room rate: $45 CAD for a single room per night, plus taxes (currently at 13%).
Amenities: Included is linen and pillow, a small towel, wired and wifi access (Bring your own Ethernet cord for wired internet access).  Common rooms and washrooms are down the hall from the rooms.
Location: At the St. George Campus of University of Toronto; Approx. 8 min walk to conference venue.
Reservations can be made by going to www.torontores.com and filling out a Reservation Form.  Click on Book A Room. Fill out the 2018 Summer Residence Reservation Form for Short Term Stays (between 1 to 28 nights) and e-mail or fax it. Be sure to enter Special Rate Code "ELPUB2018" on your Reservation Form.  Book as soon as possible to guarantee availability.
Victoria College Residence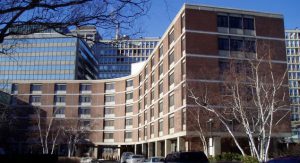 Margaret Addison Hall Residence Services Desk – 140 Charles St. W., Toronto, ON M5S 1K9
Conference room rate:
$69.00 per single room / per night (+ 13% HST = $77.97)
$94.00 per double room / per night (+ 13% HST = $106.22)
*ID must be presented for these rates
Amenities: Single and twin-bedded rooms are equipped as study bedrooms. In each room, fresh linen and towels are provided; guests would need to supply their own personal hygiene items as soap, shampoo, etc. The washrooms are shared amongst the guests and are located a few steps from each room. Laundry facilities are available, along with complimentary local telephone calls.
Internet is also available in the rooms, however guests must bring their own ethernet cable, request internet access upon check-in, and allow for approximately 20 minutes to set-up.
Summer accommodation includes a full hot breakfast served in either our beautiful Burwash Dining Hall or Ned's Cafe in our  Goldring Student Centre. This all-you-care-to-eat dining experience is offered daily between the hours of 7:00AM and 9:30AM.
Location: At the St. George Campus of University of Toronto; Approx. 11 min walk to conference venue.
Reservations: To make a reservation, please visit this link and follow the instructions: http://www.vicu.utoronto.ca/hospitality/resaccommodations/SummerAccommodations/ReservationInformation/MakeAReservation.htm. Please mention the conference name, ELPUB2018 when you book, to ensure you receive the conference rate. This rate is only available based on availability – book early!
Holiday Inn Toronto – Bloor Yorkville
280 Bloor St W, Toronto, ON M5S 1V8, Canada
+1 416-968-0010
www.ihg.com
Intercontinental Hotel
220 Bloor Street West, Toronto, ON M5S 1T8, Canada
+1 416-960-5200
www.ihg.com
Comfort Hotel
15 Charles St E, Toronto, ON M4Y 1S1, Canada
+1 416-924-1222
www.comfortinn.com
Courtyard by Marriott – Toronto Downtown
475 Yonge St, Toronto, ON M4Y 1X7, Canada
+1 416-924-0611
www.marriott.com
Toronto Marriott – Bloor Yorkville
90 Bloor St E, Toronto, ON M4W 1A7, Canada
+1 416-961-8000
www.marriott.com
Doubletree by Hilton Hotel Downtown Toronto
108 Chestnut St, Toronto, ON M5G 1R3, Canada
+1 416-977-5000
www.doubletree3.hilton.com  
Map of Key Conference Locations
Explore the map below to see where hotels and accommodations are located in relation to the conference venue. On-campus options are listed in green, while hotels are in blue. The Conference Venue is the yellow star.