ELPUB 2018 Visitor Information
Connecting the Knowledge Commons:
From Projects to Sustainable Infrastructure
ELPUB 2018 will be held in the vibrant city of Toronto, Canada. From all the exciting activities taking place during the conference, to opportunities to explore the city and making your travel and accommodation arrangements, this is the place to get started. Stay tuned as we update this page with more information about exploring the City of Toronto!
ELPUB 2018 Key Points of Interest
Why visit Toronto? The views are different here.
Find tips for the best of Toronto, plus maps, neighbourhood guides and listings in the Toronto Visitor Guide. Explore some of our top picks below:
Find tips for the best of Toronto plus maps, neighbourhood guides and listings in the Toronto Visitor Guide.
Currency
Toronto's currency is the Canadian dollar. U.S. dollars are accepted in many Toronto establishments, although you'll receive change in Canadian funds and exchange rates will differ from merchant to merchant. You'll find cash machines/ATMs all over the city and in most banks, hotels and shopping centres. Credit cards are accepted at all major retailers. Currency exchange is available at kiosks in the city and at the airport.
Tipping
For restaurant dining, if you're happy with the service you receive, a 15 to 20% tip on the pre-tax bill is a standard expression of appreciation when dining out in the city. Note that some restaurants automatically add this gratuity when serving large groups, so be sure to check your bill. Tips are also expected for services such as haircuts, shoe shines and taxi rides. 15 to 20% is standard in these situations as well.
Taxes
The Harmonized Sales Tax (HST) is a 13% tax that is applied to most purchases of taxable supplies of goods and services in the Province of Ontario. The HST consists of a 5% federal portion and an 8% retail sales tax portion.
Electrical Outlets
In Canada, like the United States, the power sockets are of type A and B. The standard voltage is 110-120 V and the standard frequency is 60 Hz.
Stay up to date on all the festivals and events taking place in Toronto by visiting the City's Events Calendar. Other great places to check event calendars include BlogTO and Now Toronto (especially for music, stage and arts listings).
Tourism Toronto keeps an up-to-date section on their website called HOT DEALS, for value-saving offers on a number of Toronto attractions.
CityPASS offers a 36% discount on the top five Toronto attractions. CityPASS Admission includes the CN Tower, Casa Loma, Royal Ontario Museum, Ripley's Aquarium of Canada, and either the Toronto Zoo or Ontario Science Centre. CityPASS is valid for 9 consecutive days starting with the first day of use, so there's no need to rush; you'll have plenty of time to experience Toronto at your own pace.
Festivals and Events in June 2018
The following festivals and events will be taking place in June around the ELPUB Conference:
Toronto has a number of iconic attractions, and below are just a few. Explore!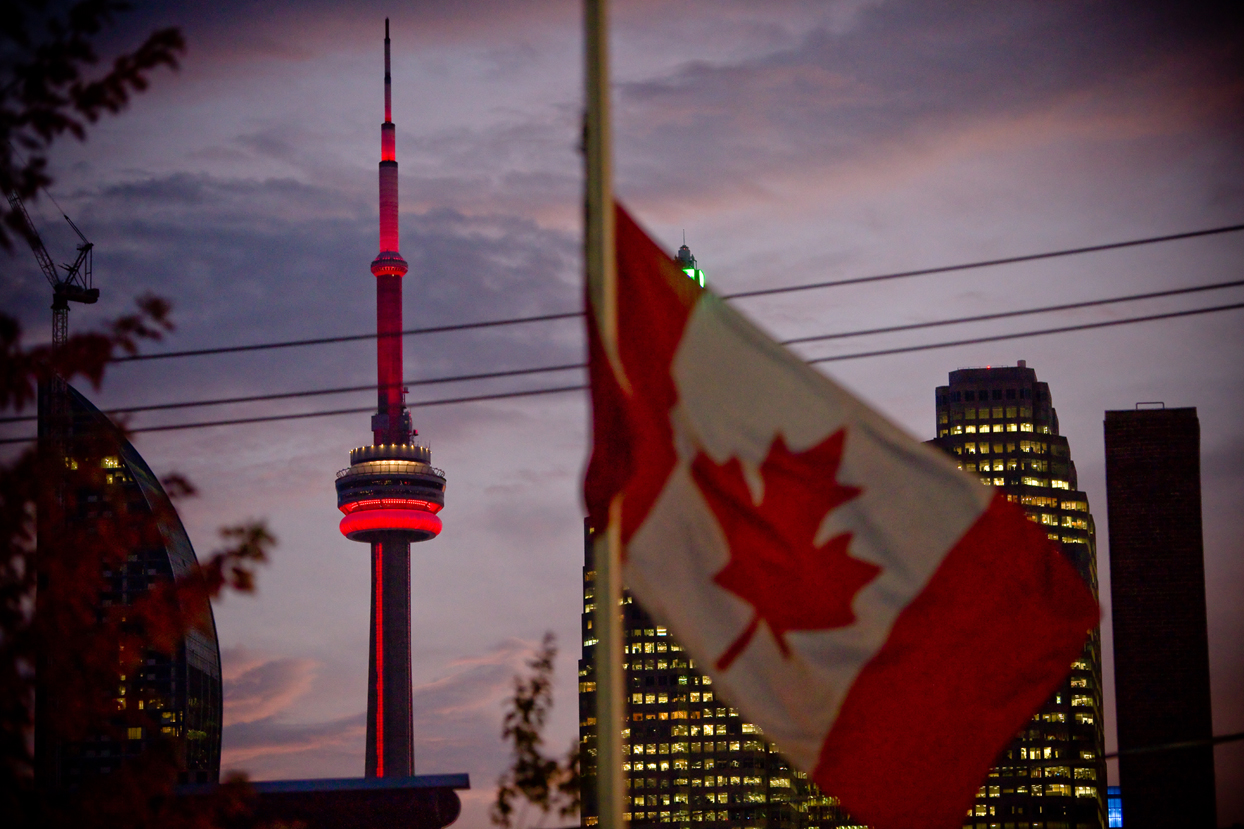 Toronto's most prominent attraction is the CN Tower, the tallest free-standing structure in the western hemisphere. It now includes EdgeWalk, a thrilling hands-free walk around the outside ledge of the tower. Located at 351 meters is the revolving 360 Restaurant, featuring fine dining and some of the best views from a table anywhere in the Toronto. Photo credit: Tourism Toronto.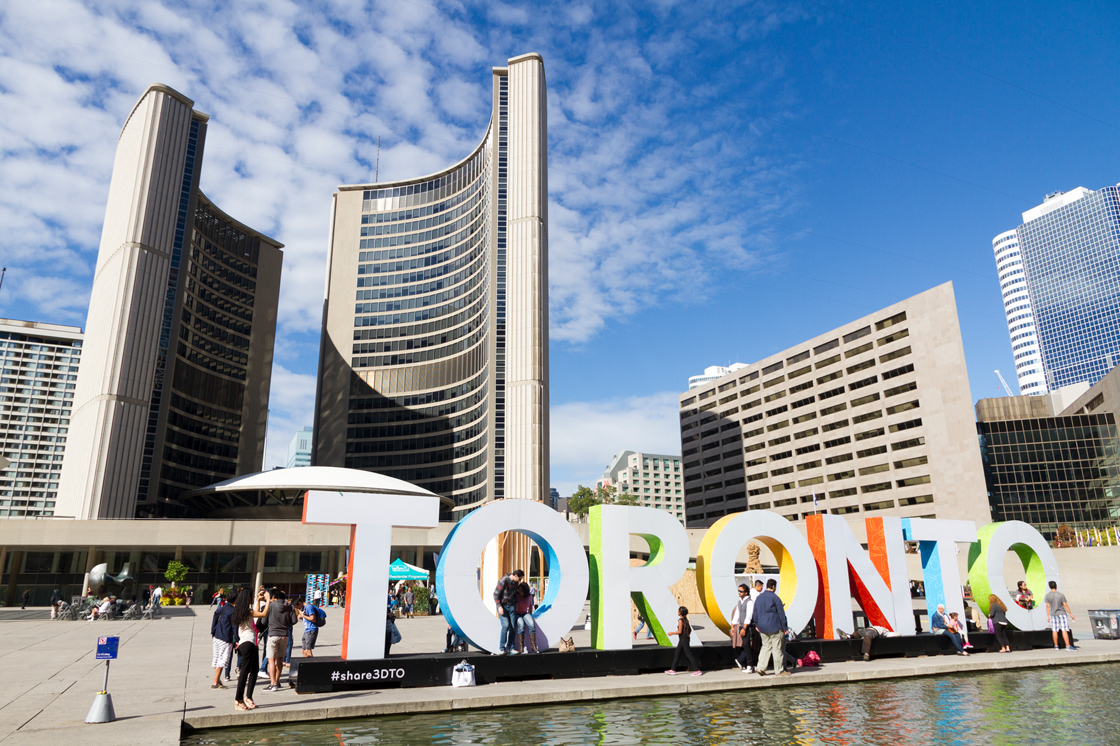 Nathan Phillips Square is a vibrant, active space in the heart of the City. Every year, over 1.5 million visitors attend a variety of community and special events hosted at the Square, and take photos in front of the iconic TORONTO sign. This is also the site of Toronto's City Hall, the seat of municipal government and corporate head office for Canada's largest city. Photo credit: Tourism Toronto.
Yonge-Dundas Square is a unique focal point of the downtown Toronto community. The Square is designated for use as a public open space and as an event venue that can accommodate events of various sizes. You'll discover a wide range of activities on the Square: community celebrations, theatrical events, concerts, receptions, promotions – events that appeal to residents and tourists alike and provide a showcase for local businesses. Photo credit: Tourism Toronto.
Museums and Art Galleries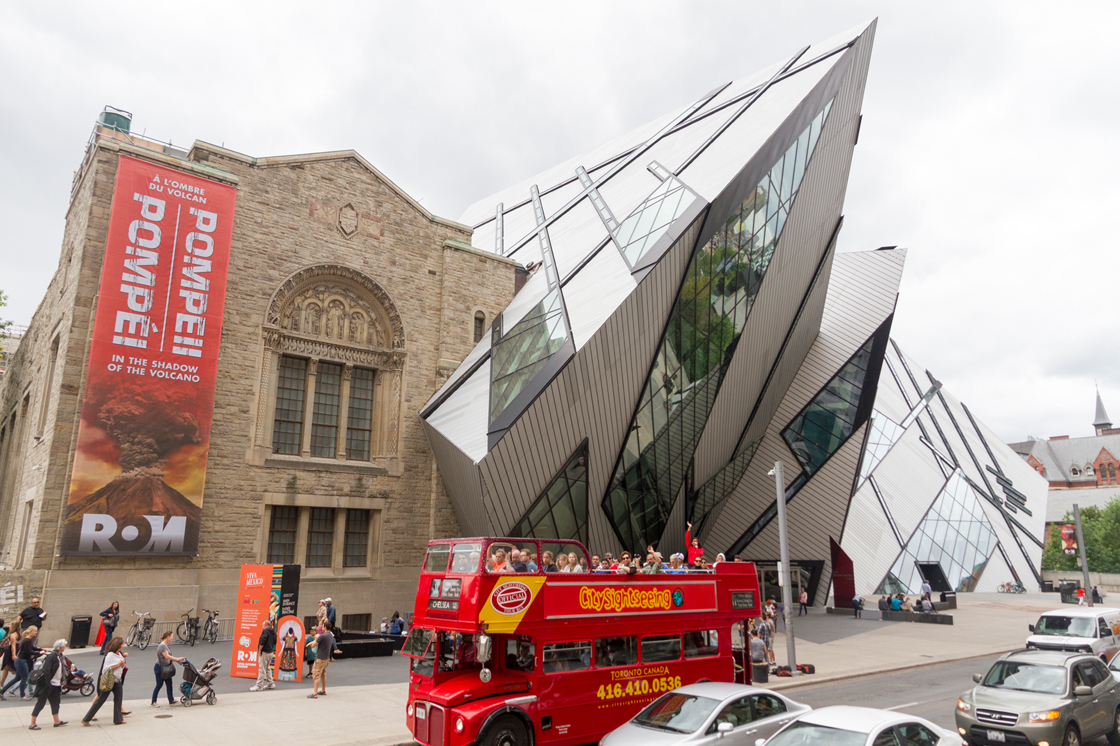 Extensive galleries of archaeology, art and natural science featuring six million objects await during your visit to the country's premier museum. With plenty of hands-on and interactive exhibits–from dinosaurs to ancient Egypt to gems and minerals–history comes to life at this world-class museum, right in the heart of Toronto. Photo credit: Tourism Toronto.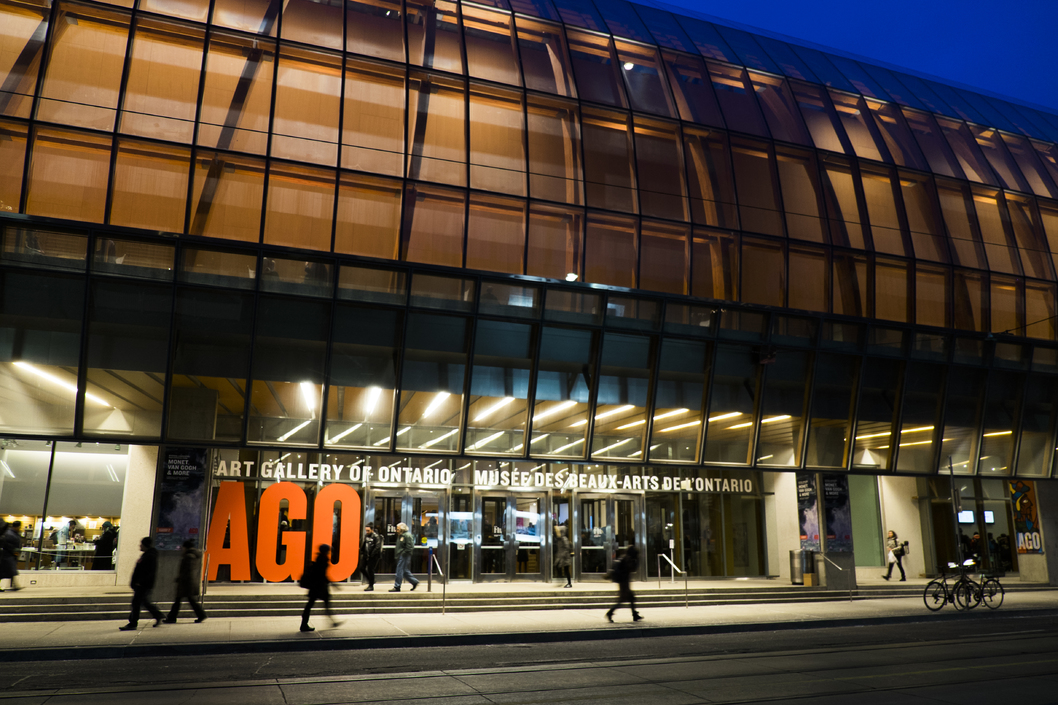 From the vast body of Group of Seven and signature Canadian works, to the African art gallery, to cutting-edge contemporary works and masterpieces of European art, the AGO offers an incredible experience with each visit. Photo credit: Tourism Toronto.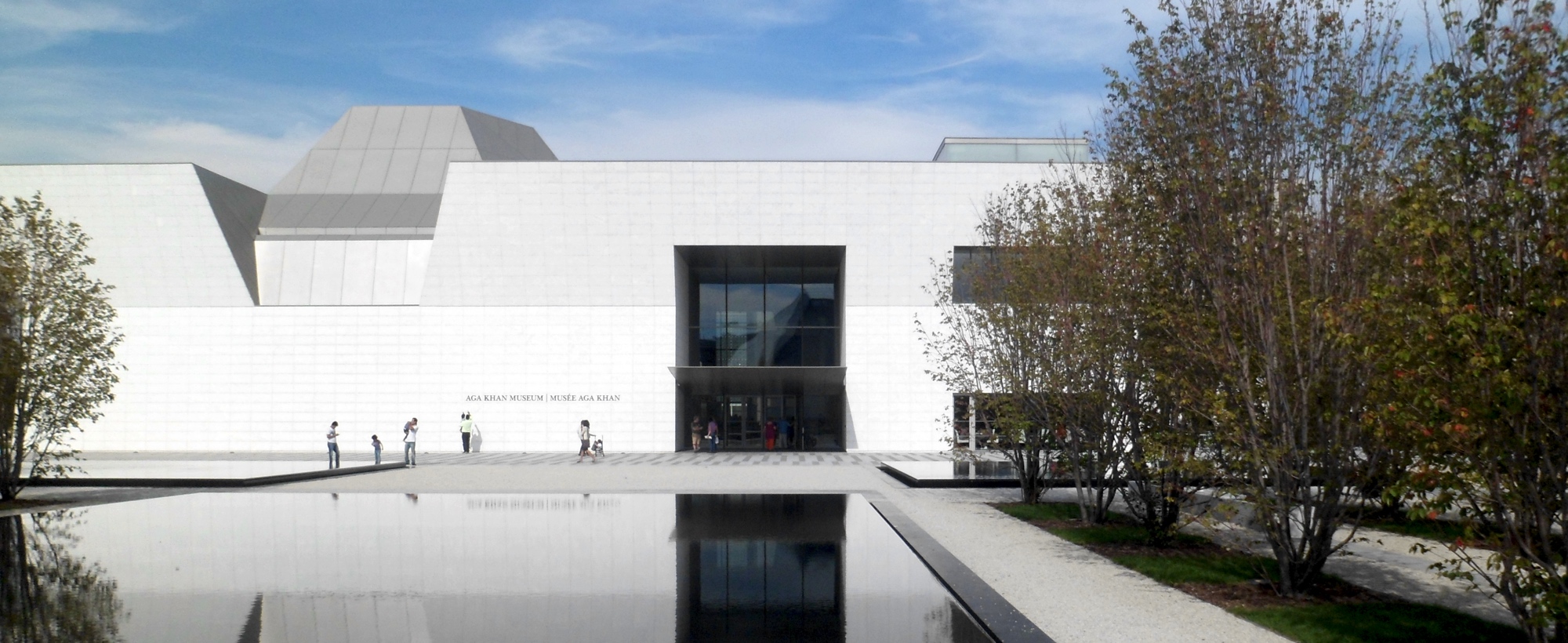 The Aga Khan Museum provides visitors with a window into the artistic, intellectual, and scientific contributions of Muslim civilizations to world heritage. The Museum's Permanent Collection of over 1000 objects includes rare masterpieces that reflect a broad range of artistic styles and materials. Photo credit: DanHa.
Toronto is a city known for its diverse neighbourhoods, each with its own distinctive character. Below are a few popular spots to visit, but be sure to check out Tourism Toronto's Neighbourhood Guide for more.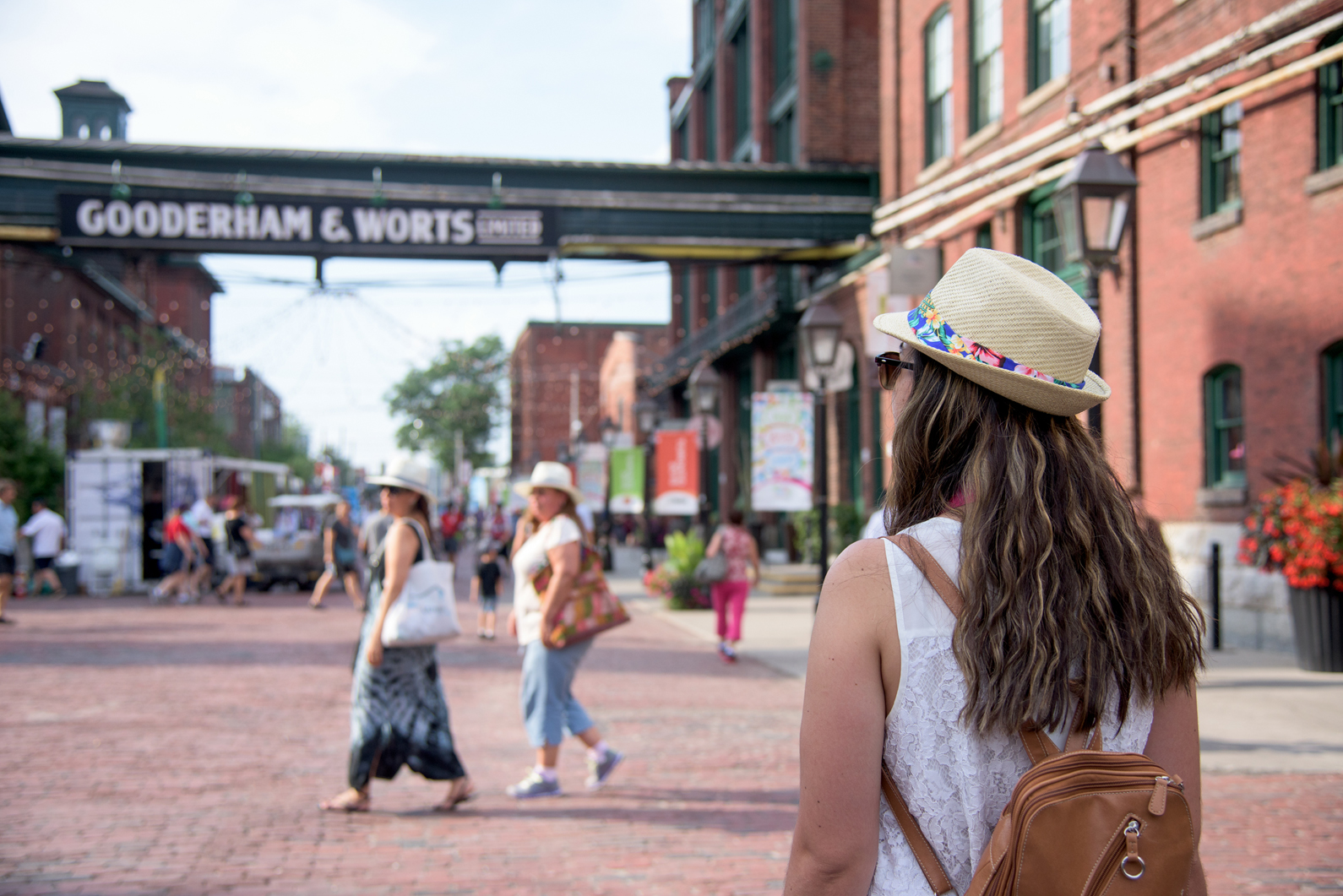 The 13 acres (5.3 ha) district comprises more than forty heritage buildings and ten streets, and is the largest collection of Victorian-era industrial architecture in North America. An inspired blend of Victorian Industrial architecture and stunning 21st century design and creativity. The result is an internationally acclaimed village of one-of-a-kind stores, shops, galleries, studios, restaurants, cafes, theatres and more. Photo credit: Tourism Toronto.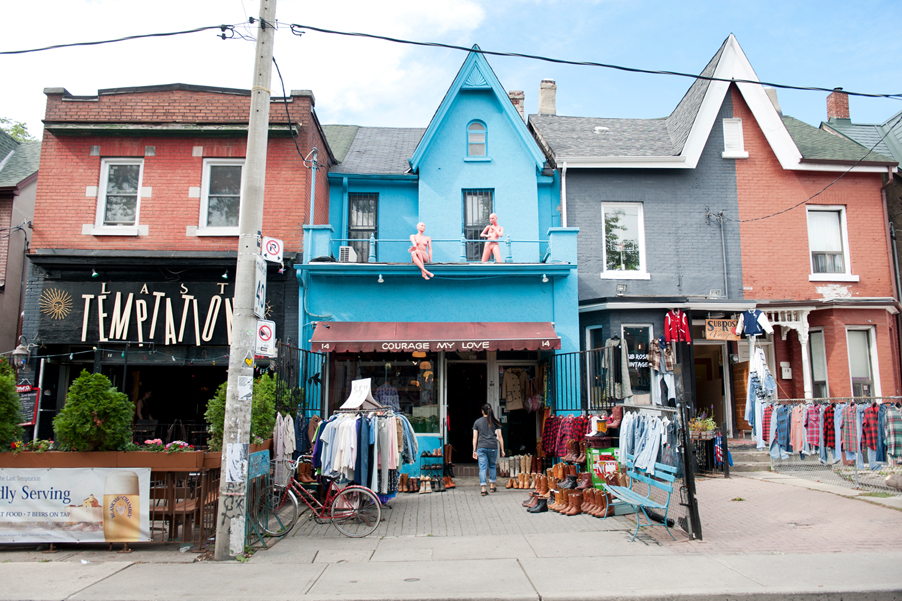 Toronto's most unique neighbourhood, Kensington Market retains its charm and wonderful diversity through its eclectic mix of vintage clothing stores, grocers, restaurants and cafes. Behind and beside the storefronts there are discreet back alleyways winding through the neighbourhood where short rows of small late-19th century cottages sit on narrow lots. Photo credit: Tourism Toronto.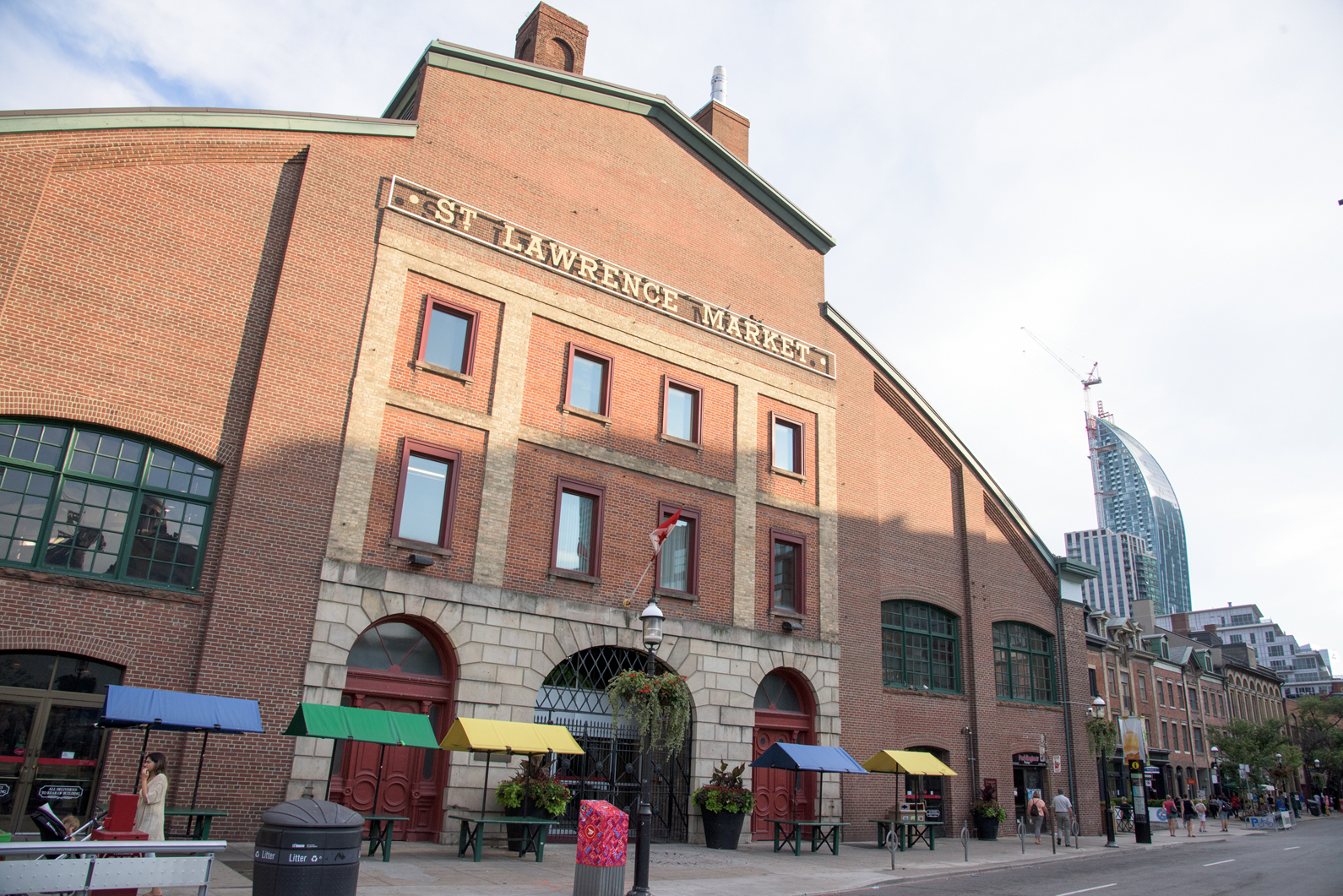 In the centre of historic Old Town Toronto, close to the hub of today's downtown sits the St. Lawrence Market Complex – three buildings that have served as Toronto's social centre, City Hall and marketplace throughout the city's history. St. Lawrence Market may be known primarily for its food, but it's also a great destination for shopping and activities. With everything from handcrafted jewellery, to quality natural clothing, to accessories, crafts, and souvenirs, it's an ideal place to find that perfect one-of-a-kind item. Photo credit: Tourism Toronto.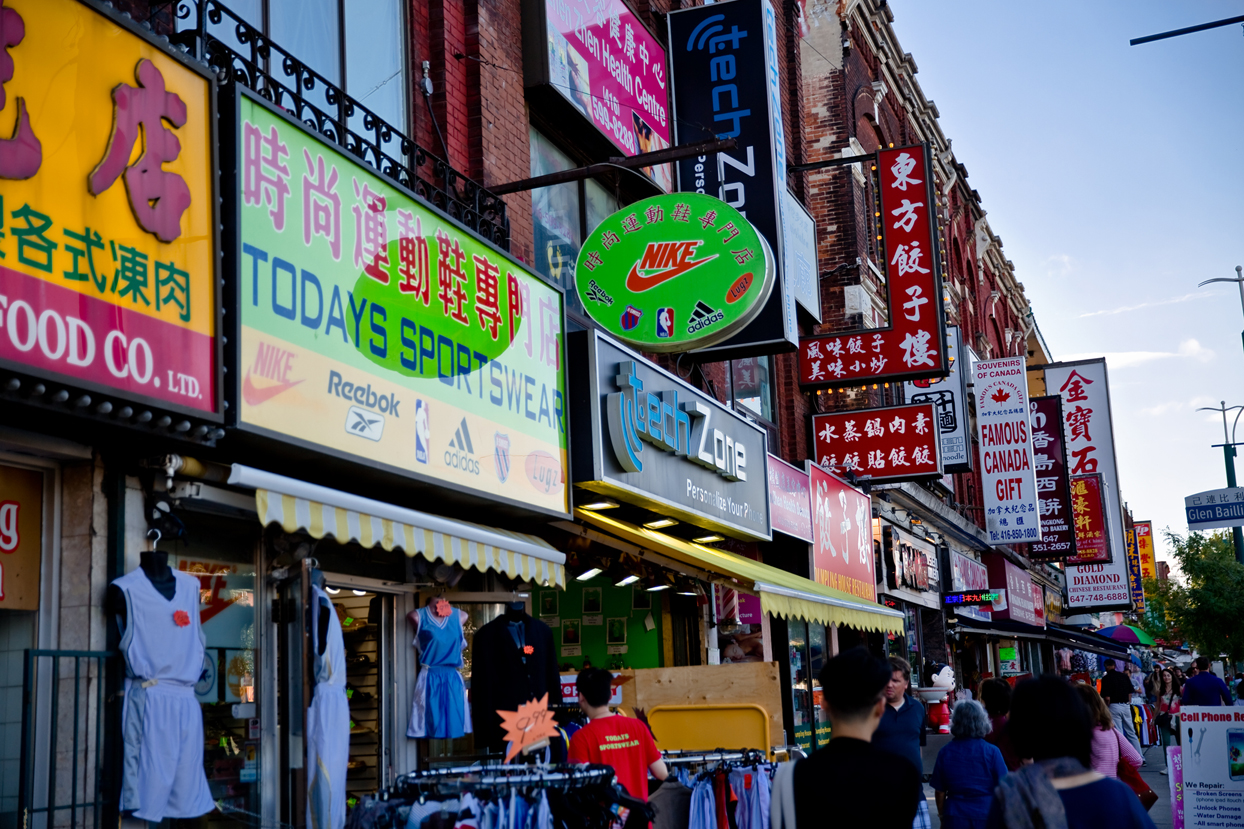 The corner of Spadina and Dundas wouldn't look at all out of place in the middle of Hong Kong. Chinatown is always a hub of activity as residents and tourists elbow for cheap housewares, fruits, vegetables and dim sum. The crowds of people and the buzzing activity add to the captivating atmosphere of Toronto's downtown Chinatown. Photo credit: Tourism Toronto.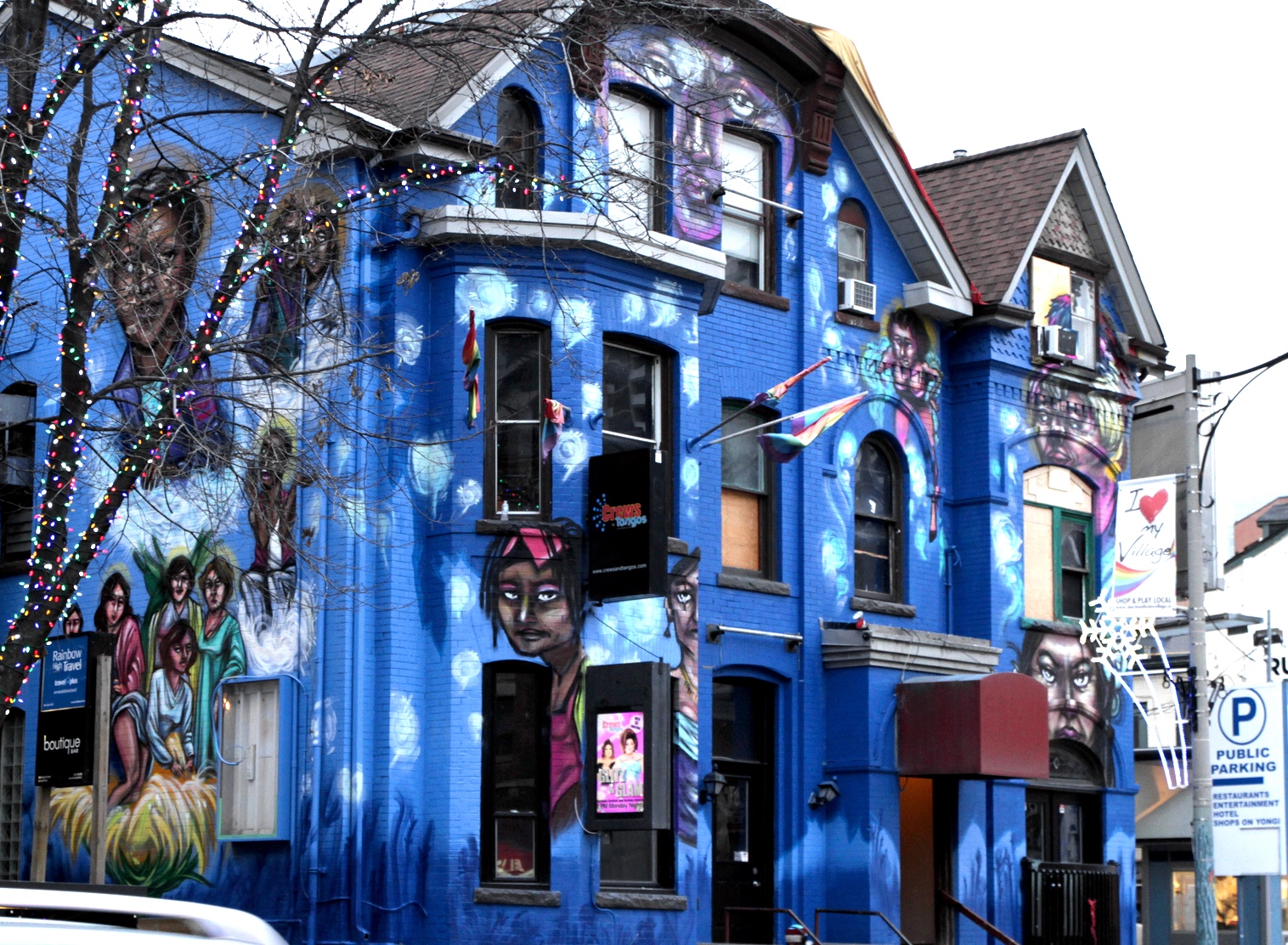 The Village is the historic home of Toronto's LGBTQ communities. The neighbourhood has been known for decades as the gathering place for diverse communities and is still a primary point of contact for tourists and LGBTQ people moving to the City. The area is packed with cafés, restaurants, gay-oriented shops and a vast array of hot bars and nightspots.
This photo shows the history of drag painted on Crews & Tangos, Church and Wellesley Village, Toronto. By Artist Nadijah Robinson and graffiti artist Elixir. Photo credit: Joseph Morris.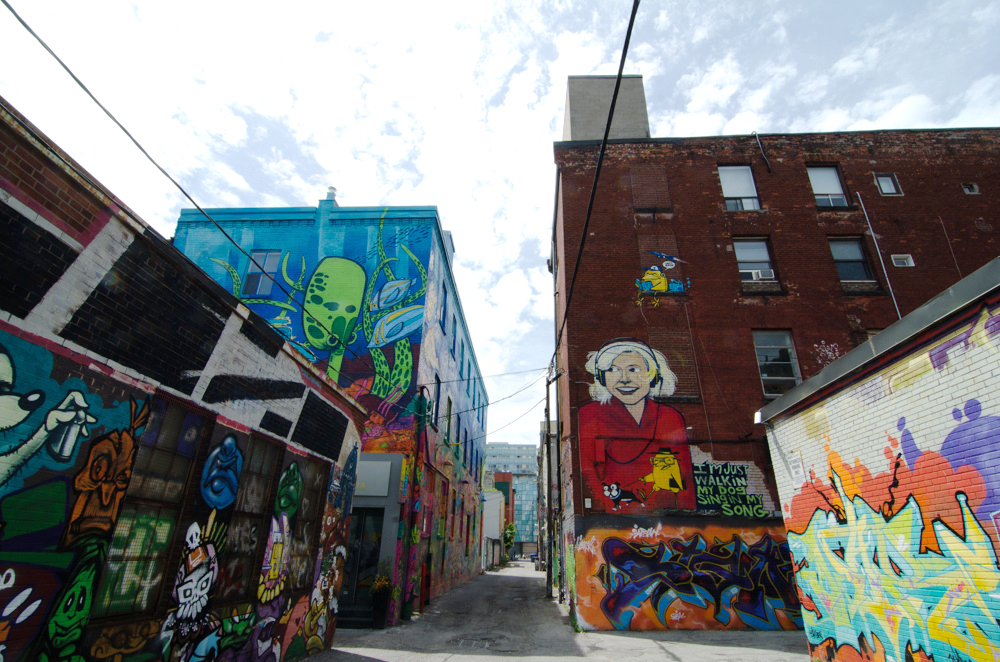 West Queen West is pretty much home to all things cool. It has great shopping, tons of art and design studios, and a variety of live music venues and good eating, all of it set against a backdrop of historic buildings. Walking through the streets you'll stumble upon hidden galleries, drum circles in Trinity Bellwoods Park, art hotels The Drake and Gladstone, and "Graffiti Alley," the self-explanatory street art hub that might just be the perfect background for your next profile photo. Photo shows Street Art in Graffiti Alley in Toronto. Photo credit: Jason Baker.
Activities for Kids and Families
Please visit our Parent Guide page for more information and ideas for family fun in Toronto.
Taking a nature walk in Toronto is an easy task with so many beautiful parks around. And there are options: from beachside spots to dense forests to botanical gardens, you'll never run out of places to go for a scenic summertime jaunt. Be sure to check out Tourism Toronto's Outdoors and Recreation guide.
Toronto has a dynamic and diverse culinary scene. Internationally-acclaimed chefs head restaurants like the three-storey Momofuku (a favourite among visiting celebrities), while high-in-the-sky eateries like 360 Restaurant at the CN Tower pair mouthwatering meals with unparalleled views. Whether you're in the mood for Italian, Mexican, Chinese or Ethiopian, you won't have a problem finding a delicious meal to satisfy your craving in Toronto.
Check out Tourism Toronto's Food and Drink online guide, which includes undiscovered neighbourhood dining, celebrity chefs, top brunches, family fare and much more.