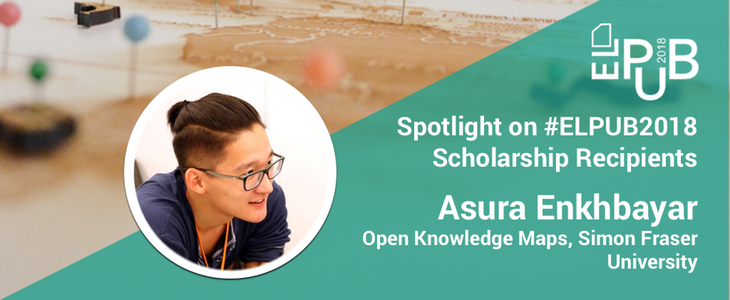 Over the next few weeks in the lead up to the ELPUB Conference, we will be featuring the #ELPUB2018 Travel Scholarship recipients on our blog. We would like to thank our Conference Partners – PLOS, OpenEdition, SPARC, FACETS Journal, UTSC's Arts Culture and Media Department and Centre for Critical Development Studies, U of T Libraries, ACRL, Arcadia Fund, CARL, CRKN, Creative Commons, eLife, KULA Journal and Ubiquity Press – for making it possible to include more voices in the conversation.
In this post, we share a Question and Answer interview with Asura Enkhbayar, a PhD student at Simon Fraser University and Data Scientist at the #ScholCommLab. Asura will be presenting his poster, "Open Knowledge Maps: A Visual Interface to the World's Scientific Knowledge" at the ELPUB Conference.
What are your research interests and how do they fit in with the theme of the ELPUB conference (Connecting the Knowledge Commons: From Projects to Sustainable Infrastructure)?
I am a PhD Student in the Individualized Interdisciplinary Studies program at Simon Fraser University. As the name already implies, I have a quite diverse background (Electronics and Cognitive Science) and I am hoping to continue working and learning in an interdisciplinary setting. In particular, my interests are in exploring a (critical) theoretical framework of scholarly communication based on contemporary philosophy of technology. Being aware of the dreaded "philosopher's armchair" I am simultaneously trying to keep thinking and working in empirical terms as I do in my role as a data scientist in the #ScholCommLab (scholcommlab.ca) at Simon Fraser University.
I am convinced that understanding scholarly communication in today's digitalized world inevitably includes the conversation with scholarly publishing. Furthermore, this year's theme at ELPUB is especially important to me as a member of Open Knowledge Maps (openknowledgemaps.org). As a non-profit, open source, and community-driven project in the scholarly world we are directly affected by the posed question of sustainable infrastructure.
What are some of the specific challenges within your region/country with regards to infrastructures for open access?
Quite recently I moved from Vienna to Vancouver. During an internship four years ago, I encountered bibliometrics for the first time and since then I have been constantly learning about and exploring the dynamics between academia and scholarly publishing in some form or another. Libraries, policies, technologies, the open source community, OER, Open Science, Wikipedians, of course publishers, and more… Slowly becoming familiar with these terms meant that I also slowly started to understand the complexity, the systemic obstacles, or everyday challenges in working on infrastructure for science, especially once Open Access comes into play.
As a student, I have so far focused on the things that affect the youngest of the young within academia (those who are not old enough to be "early career" yet). What can the academy do to help students? What can students do to help the academy? After moving to Vancouver, I am hoping to learn more about the differences between the answers to these questions from the European and North American perspective. Furthermore, the next and even more crucial task would then be to repeat this exercise outside of the Western/Northern context. In this regard, I am hoping to attend an ELPUB which is rich in diverse perspectives and voices.
What do you hope are the outcomes of the ELPUB Conference?
As a student, the world of academic publishing is a mystical place. Even as a student who has been involved in the Open Science community, who has been researching scholarly communication and altmetrics, who has been involved in the development of a science discovery tool, I still have to admit that publishing is–in some places–still shrouded in the mystical mist of mysticity. So, at ELPUB, I am obviously hoping to learn new things, meet future friends and collaborators, and learn about current efforts and initiatives in the community. But most importantly, I am hoping that some of the mist will have cleared away after these three days in Toronto.
Any other comments you'd like to make?
Shameless plug for my poster: If you are interested in learning about a new way of discovering scientific literature and creating bubbly overviews of research topics and fields, find me at the Open Knowledge Maps poster.