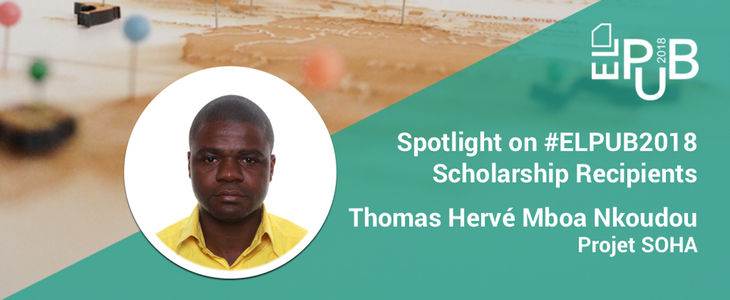 Over the next few weeks in the lead up to the ELPUB Conference, we will be featuring the #ELPUB2018 Travel Scholarship recipients on our blog. We would like to thank our Conference Partners – PLOS, OpenEdition, SPARC, FACETS Journal, UTSC's Arts Culture and Media Department and Centre for Critical Development Studies, U of T Libraries, ACRL, Arcadia Fund, CARL, CRKN, Creative Commons, eLife, KULA Journal and Ubiquity Press – for making it possible to include more voices in the conversation.
In this post, we share a Question and Answer interview with Thomas Mboa, a PhD student at the Université Laval and member of Projet SOHA. Thomas will be presenting the poster "What types of web publishing platforms does Africa need? The ambiguous case of French-speaking Africa" at the ELPUB Conference.
What are your research interests and how do they fit in with the theme of the ELPUB conference (Connecting the Knowledge Commons: From Projects to Sustainable Infrastructure)?
I am Cameroonian with a background is in biochemistry and Sciences of Education. My interest in Open Science (including Open Access) started with OER (Open Educational Resources); then 4 years ago I enlarged this vision when I joined the so-called Projet SOHA. This project funded by OCSDnet, aimed to document obstacles to the adoption of Open science practises in Haiti and Francophone African countries.  Currently, as a PhD student in Information & Communication at Université Laval, Québec City, Canada, I decided to study OSH (Open Science Hardware) and the maker movement with the idea to tackle one obstacle we found: access to equipment.
My research interests fit into this year's ELPUB conference theme because even if the core ideologies of the Maker movement known as: Open Source, DIY and Hacker ethics have the potential to change things in Africa, we still have a big problem in terms of communication and access to information around all the opportunities given to us via the maker movement.
What are some of the specific challenges within your region/country with regards to infrastructure for open access?
Some big challenges we had during the Africa OSH were: How can we facilitate circulation of designs, code, results, projects inside Africa? Can we build a common publishing platform where all of us can share and find OSH information's concerning the African continent? Which kind of infrastructure can we build to reduce to zero, the influence of language barriers in all these processes?
What do you hope are the outcomes of the ELPUB Conference?
I believe ELPUB conference will be the right place to learn from others, interact with people and discuss. My hope is to see this conference move a step forward, by avoiding spending much time on the same traditional debates, instead to think and shape the future of scholarly communication.