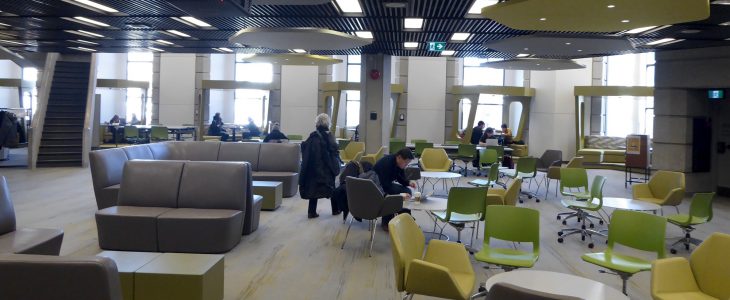 Welcome to the fourth edition of the ELPUB 2018 Newsletter! We will use this forum to share the latest conference news, important date reminders, and interesting materials related to the theme of this year's conference – Connecting the Knowledge Commons: From Projects to Sustainable Infrastructure.
This issue, we are shining a special spotlight on our lead Conference Partners, PLOS and OpenEdition. We asked them why they are supporting ELPUB, what challenges lie ahead for creating sustainable knowledge infrastructures, what they are looking forward to most about this year's conference and more. Check out their interviews below. We are grateful for the contributions of our Conference Partners who are supporting the conference and Travel Scholarship fund.
In February, we also had the chance to visit the venue for this year's ELPUB Conference, as shown in the picture above. We are happy to be partnering with the Faculty of Information at the University of Toronto to host #ELPUB2018 in such a beautiful space!  Our Early-Bird registration is open now – you can register on our website here. Please spread the word!
We recently sent out author notifications and appreciate the diversity of submissions. A preliminary agenda at-a-glance is now available on our website, and we will continue to update it as the programme is finalized.
We welcome your feedback, comments and questions, so don't hesitate to get in touch by emailing elpub2018@utsc.utoronto.ca.
Best wishes,
The ELPUB Team
Important Dates
Feb 1 – Early registration open until April 30
Feb 21 – Author notification
Mar 29 – Submission of full paper for final review
Some highlights from our interview with PLOS:
What do you think are some of the challenges in creating an inclusive ecosystem for sustainable research infrastructures?
We are all striving to be innovative and change agents, yet we are operating with technologies that are 20+ years old. To truly enable change, we need to match infrastructure with impact, concurrent with maintaining daily business operations. It is important for us to promote open source initiatives and establish interoperability via standards to make it easier for researchers to experiment and for new marketplaces to emerge…
Are there any specific outcomes you would like to see coming out of ELPUB this year?
Forums such as ELPUB provide opportunities for interested parties to move beyond discussion, into a phase of action on infrastructure. We look forward to meeting potential new partners and the opportunity to work collaboratively together…
Some highlights from our interview with OpenEdition:
How does the theme of this year's conference, Connecting the Knowledge Commons: From Projects to Sustainable Infrastructure, relate to your mission?
As a national infrastructure, we work daily on the question of project sustainability. It is our core mission to provide sustainable services to the community. At the same time, the rise of the « Knowledge Commons » topic is an interesting turn for us in the academic conversation. It leads us to question what are the relationships between the public good that we serve as a public infrastructure funded by the State, and the knowledge commons which should be supported by the community…
What discussions are you looking forward to participating in at ELPUB?
The academic publishing community is clearly at a crossroad currently, particularly considering open access and more generally, recent developments in open science. Open access and open science for what? Under which conditions? For whom? Hopefully the presentations, even when highly technical, specific or project-oriented, should try to contribute to the collective answers we must give in the coming years to those questions. We need to elaborate an inclusive discussion on those topics, giving space for the different political and academic cultures to speak out.
Each issue we will share some articles and commentary related to the theme of this year's ELPUB Conference – Connecting the Knowledge Commons: From Projects to Sustainable Infrastructure. If you have any ideas for interesting content to share in the next issue, please send it to elpub2018@utsc.utoronto.ca! 
By Marta Teperek
This blog post provides a checklist and guide for what you can do before, during and after a conference to make the most of the experience. There are some great suggestions in here that can apply to ELPUB – including participating in conversations online using the hashtag #ELPUB2018, and following us on Twitter @ELPUB_Conf.
By Kathleen Fitzpatrick
"In my last book, Planned Obsolescence, I argued for the potentials of open, peer-to-peer review as a means of shedding some light on the otherwise often hidden processes of scholarly communication, enabling scholars to treat the process of review less as a mode of gatekeeping than as a formative moment in which they could learn from and contribute to their communities of practice. In Generous Thinking, my focus is somewhat different—less on the ways that scholars communicate with one another and more on the ways we invite the world into our work—but the emphasis on opening up our processes and imagining the ways that they might invite new kinds of conversations remains."
Dr. Kathleen Fitzpatrick is one of the keynotes at this year's ELPUB Conference. For the month of March, her manuscript Generous Thinking is open for comment by any interested reader. Learn more and contribute to the community review of Generous Thinking here. 
Interview with Leslie Chan, conducted by Becky Hillyer; Introduction by Angela Okune
"As one of the original signatories of the Budapest Open Access Initiative, a historical and defining event of the global open access movement, OCSDNet PI, Leslie Chan has been active in the experimentation and implementation of scholarly communication initiatives of varying scales around the world for the last twenty years.
However, in this post, Leslie confesses that his advocacy efforts have not gone as hoped. In fact, he worries that the Open Access movement may have in fact had the opposite intended effect – instead of democratizing and enabling knowledge to be used by wider publics for local development, in his eyes, the movement appears to have been co-opted by the same publishers that have held a monopoly over global scholarly outputs, further entrenching their power and control over academic knowledge production."